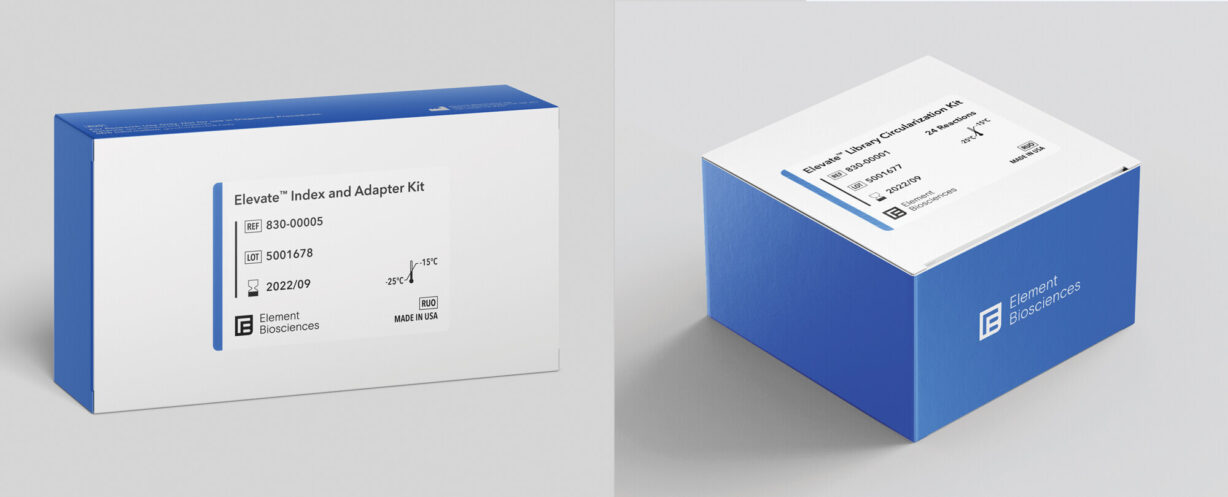 The Element Elevate Library Prep Workflow pairs with third-party kits to prepare and circularize libraries for sequencing on the Element AVITI™ System. This workflow leverages modular components that are readily compatible with a variety of next-generation sequencing (NGS) reagents and requires minimal input, resulting in efficient recovery and high reproducibility while enabling multiple runs per sample. The result is robust data demonstrating good coverage, accurate variant detection, and high index assignment, optimizing outcomes and maximizing potential applications.
Elevate Library Prep Workflow
Simple adapter substitution and circularization for sequencing on the AVITI System
The Elevate Workflow employs two kits—the Elevate Index and Adapter Kit and Elevate Library Circularization Kit—that seamlessly integrate with a variety of third-party library prep kits to produce AVITI-ready libraries. Simply substitute Element adapters and indexes using your preferred application and follow vendor guidelines for input, yield, and plexity. Unique dual indexes (UDIs) allow pooling of up to 96 samples for processing with the Element Elevate Library Circularization Kit, which provides a streamlined protocol that minimizes hands-on time. The resulting libraries are ready to be diluted and loaded onto the AVITI System with an optional spike-in of PhiX Control Library, Elevate (catalog # 830-00002).
Specification
Elevate Index and Adapter Kit
(Catalog # 830-00005)
Elevate Circularization Kit
(Catalog # 830-00001)
Kit size
96 reactions
24 reactions
Storage temperature
-25°C to -15°C
-25°C to -15°C
Required input per reaction
Varies by third-party kit
0.5 pmol linear library prepared with Elevate indexes and adapters
Assay time
Varies by third-party kit
~75 minutes total time
~20 minutes hands-on time
Indexing
9 bp UDI
9 bp UDI
Sequencing
Not applicable
Element AVITI System
Single- and paired-end with indexing