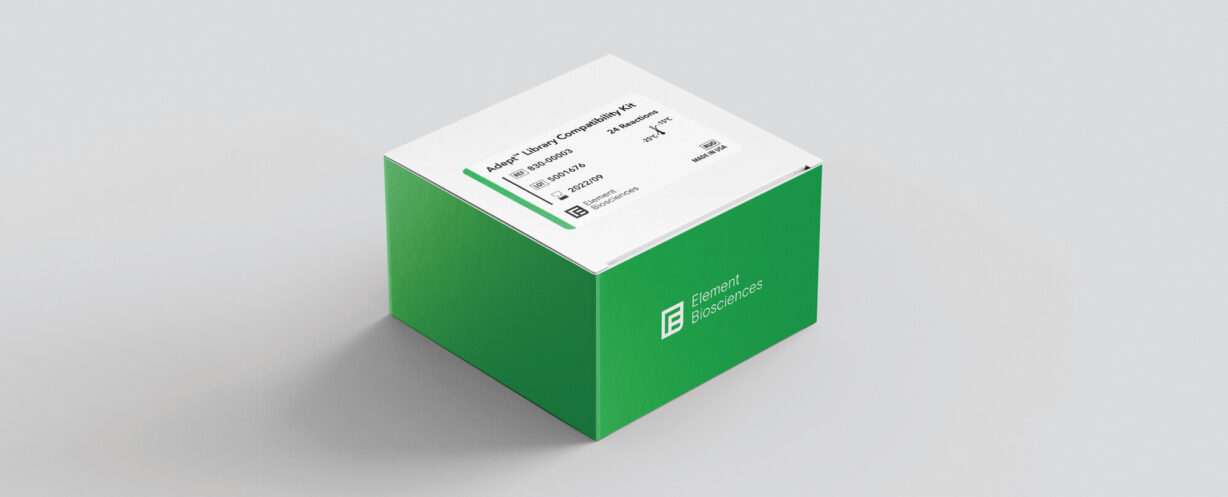 The Element Adept Library Compatibility Workflow adapts linear libraries prepared with third-party kits for sequencing on the Element AVITI™ System. Leveraging a custom splint mix that adds Element surface primers to compatible libraries, this workflow grants the benefit of adapting a wide variety of existing libraries without changing your upstream library prep. This approach unlocks access to a wide variety of applications, including whole-genome sequencing (WGS), RNA sequencing (RNA-Seq), single-cell assays, and beyond. Visit Compatible Kits for the Element Adept Library Compatibility Workflow for an up-to-date list of compatible third-party kits.
Adept Library Compatibility Workflow
Simple circularization of linear libraries for sequencing on the AVITI System
The Adept Workflow is a one-kit workflow comprised of the Element Adept Library Compatibility Kit, which includes familiar reagents and procedures to circularize libraries for sequencing in only 75 minutes. The protocol starts with 0.2–0.5 pmol linear library that is annealed to splint oligos, adding Element surface primers. A ligation reaction then circularizes the library, followed by a digestion reaction to remove any leftover splint oligos or linear library material. A final bead cleanup removes small materials, salts, and enzymes.

Specification
Value
Kit configuration
Element Adept Library Compatibility Kit v1.1
24 reactions (catalog # 830-00007)
Storage temperature
-25°C to -15°C
Input requirement
0.2–0.5 pmol linear library per reaction
Assay time

~75 minutes total time

~20 minutes hands-on time
Indexing
≤ 10 bp dual indexes and unique molecular identifier (UMI) support
Sequencing
Element AVITI System
Optional PhiX Control Library, Adept