By Molly He, CEO & Co-Founder, Element Biosciences
When faced with uncertainty, sometimes it pays to be bold. The bold among us can see opportunities. At Element we are strategic risk-takers who see opportunities for innovation everywhere. We are not afraid to disrupt the norm.
At the J.P. Morgan Healthcare Conference last month, we announced the availability of a $200 genome on our AVITI™ Benchtop Sequencing System. We wanted to provide a flexible, volume-based program for customers to get access to the highest quality sequencing at the lowest cost. With AVITI we can offer that $2/G without requiring customers to batch samples or sequence 20,000 genomes a year. While some companies have talked about driving down costs for customers, I am glad to say that we have delivered on that promise today.
Looking back on what we aimed to build in 2018, we can see that Element has achieved what we set out to create and we are uniquely positioned to disrupt the industry with an unmatched combination of performance, cost, and flexibility.
Less than a year after the launch of AVITI, we are producing the best data quality on the market. AVITI has fewer optical duplicates, less index hopping, and significantly fewer errors in sequences that follow homopolymers compared to Illumina. Data from our customers and partners show the strength of our technology. For example, looking at exome data from Qiagen using the same library run on NextSeq550 and AVITI, the vast majority of our reads on AVITI are >Q42. For whole genome sequencing, researchers at UC San Diego demonstrated that AVITI's higher Q scores translated into good clinical yield, which is very important in the clinical setting.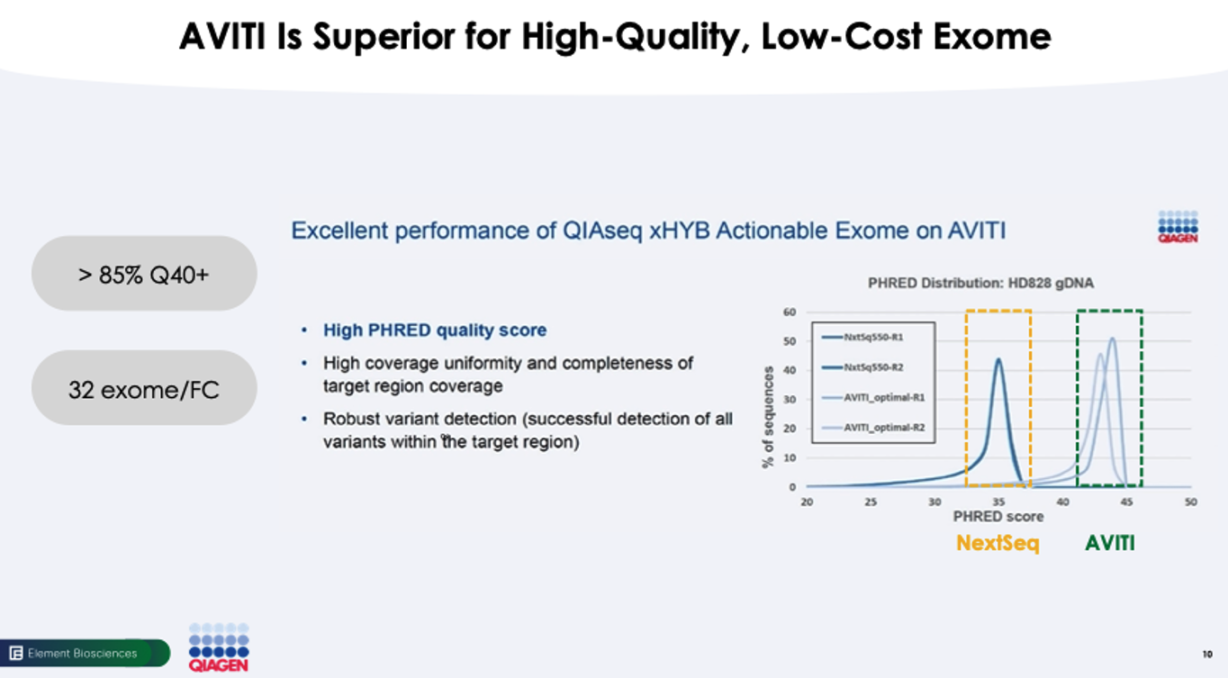 We are also beating the competition on price. Running medium throughput of three flow cells per week on AVITI saves customers about $1.7 million over three years vs. NextSeq 2000 at list prices. Imagine how much more science can be done! We have seen some drastic discounting by Illumina. Even if they gave away a NextSeq 2000 for free, sequencing on the AVITI would still be more cost-effective, allowing you to break even in under six months.
This year we have an exciting outlook ahead as we introduce our Cloudbreak chemistry in Q2, bringing 20 percent faster run times and simplified workflow, and in Q3 our new 2x300 kit, which has a factory-scale price per G comparable to the NovaSeq. We will be presenting more details at the upcoming 2023 AGBT meeting.
AVITI is redefining what is possible on a desktop, and we are just getting started. Working together with our talented and dedicated team at Element, our customers and partners, I am confident we will transform AVITI into the most versatile omics tool ever created. We will remain steadfast in our unyielding commitment to increasing access to genomics everywhere and catalyzing breakthrough science.