Element is excited to announce the launch of Elembio Cloud, the online platform for monitoring sequencing runs, visualizing run data, and managing your Element account features. Functioning as a direct extension of the Element AVITI™ System, Elembio Cloud enables easily viewed run performance and progress with continuous, real-time updates and access to a rich set of QC metrics explorable in an intuitive web platform. Cloud integration and account management makes adding integrations, planning subsequent runs, and managing your Element sequencing data and team a seamless effort.
Remote Run Monitoring on the AVITI System supports a wide array of sequencing applications - low pass WGS, single cell sequencing, WES, methylSeq, and long read sequencing with LoopSeq™ just to name a few. With multiple instruments and team members, repeated lab check-ins to keep track of multi-application or multi-flow cell sequencing projects can be inefficient. Leveraging remote run monitoring, connected AVITI systems automatically synchronize with Elembio Cloud to provide a rich view of sequencing runs for everyone on the team in an accessible online platform.
Track run status sorted by instrument from anywhere to work more efficiently.
View QC metrics including Q-Scoring, PhiX Error Rate.
Review early demultiplexing to plan your next run while the current one is still underway.
Monitor instrument availability remotely to start subsequent runs promptly.
Remote run monitoring helps your sequencing team manage lab activities without the need to be in the lab.

Your Data, Your Choice of Storage and Integration Partners
Genomic data can contain personal and potentially identifying details, and Element recognizes the need for data to be well secured and meet your data storage and analysis requirements. Elembio Cloud allows users to integrate, verify, and manage their connected AVITI fleet so that all data are kept within a cloud environment that you own and manage, not Element. Built-in flexibility of cloud storage partners, including AWS S3 and Google Storage, allows AVITI OS to securely stream source data directly to storage locations with no intermediary steps. Data management in your bucket of choice streamlines swift entry into secondary data analysis.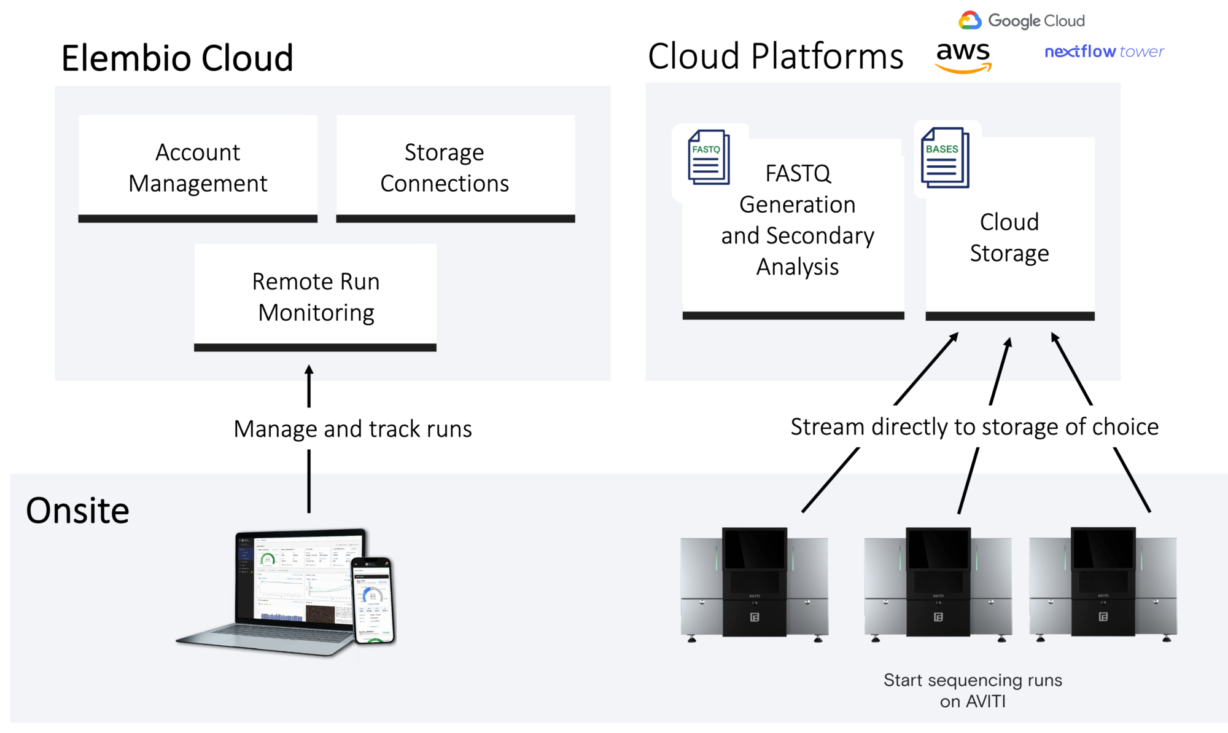 Streamlining FASTQ Generation with Industry Partners and Cloud Informatics
Converting bases files to FASTQ files is the first step in your cloud informatics pipeline, and it can be done with our Bases2Fastq software. To simplify analysis pipelines, Bases2Fastq supports key features including UMIs, FASTQ generation for all reads (R1, R2, I1, I2, UMI), 0-performance cost adapter trimming sensitive to indels and short adapters, and smart detection of index and adapter sequences. Bases2Fastq acts as an all-in-one software to optimize FASTQ generation and reduce required preprocessing steps before secondary analysis.
To simplify the process of FASTQ generation, Elembio Cloud is partnering with leading informatics providers to create analysis flows that can be leveraged with little to no informatics setup. The recently launched AWS Omics platform is an early partner, featuring a federated Bases2Fastq Ready2Run workflow that brings the compute to your data, in your account. Using Amazon Omics, Bases2Fastq can be run in roughly an hour and a half with minimal setup needed. We additionally support launching Bases2Fastq on Nextflow through the community curated bioinformatics pipeline resource nf-core.
One Stop Shop for Account Management
We know it's frustrating to have to interact with multiple platforms to manage your sequencing activities. With Elembio Cloud, Element introduces a one-stop shop for your account management. Create your Team and invite your team members to join, or connect to your organization's secured single-sign-on authentication platform.
Elembio Cloud is an exciting new platform to support all your sequencing operations seamlessly, and this is only the beginning.
Curious about how it all looks?
Check-out our demo site, where you can login with the demo user (username: demo@example.com password: DemoUser!) to experience the platform.