Element came out in force last week at the annual Advances in Genome Biology and Technology (AGBT) conference in Hollywood, FL, with an array of lounge talks and program appearances, as well as a workshop announcing details and data supporting the upcoming Cloudbreak chemistry release and 2x300 cycle kit releases.
The week started out with three application-focused talks in the Element hospitality lounge. Carrie Cibulskis, Director of Cancer Genomics at the Broad's Genomics Platform, started the presentations with her evaluation of AVITI™ for cancer sequencing applications commonly used by Broad researchers. Cibulskis noted that the AVITI already shows matched performance to Illumina sequencing across a range of cancer genomics applications, including shallow depth, exome, and panel sequencing, even without platform-specific analysis pipeline optimization. "I didn't expect it to look so good on the first try, to be honest," she said. "We are really encouraged by this data." For more details, review her team's poster or watch the video of her presentation.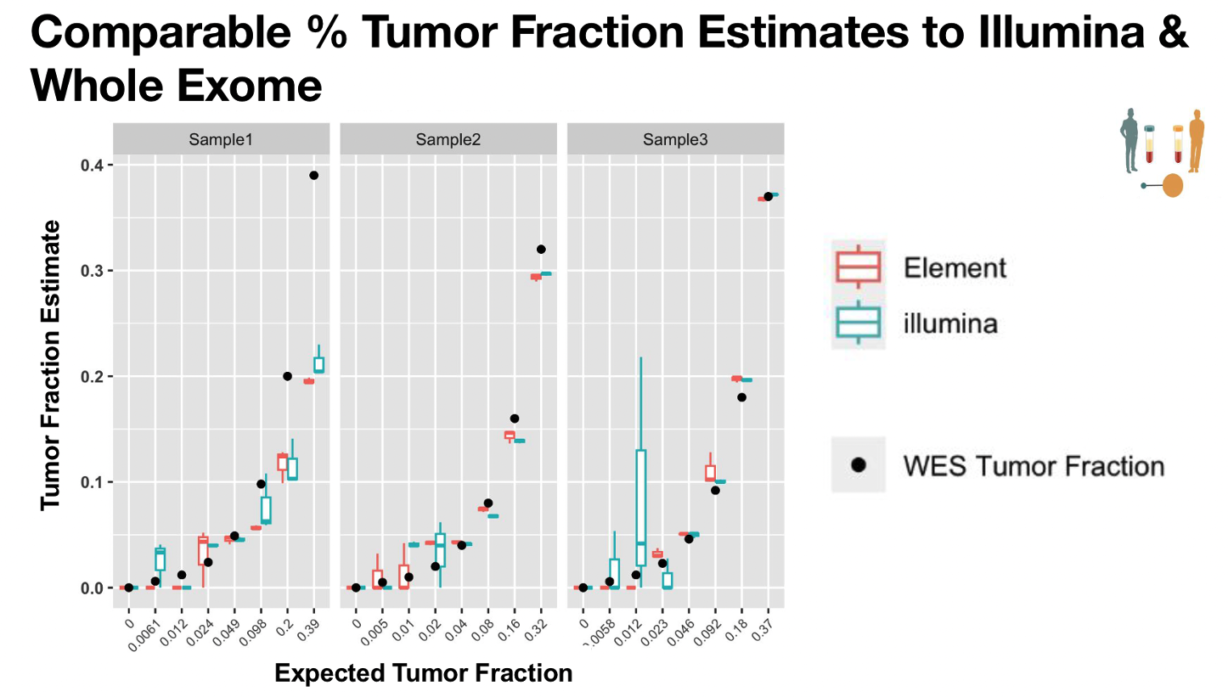 Next, Jon Armstrong, VP of R&D at Jumpcode Genomics, presented work showing the utility of CRISPRClean for reducing noise and uncovering hidden signals in single cell RNA sequencing data on the AVITI.
Finally, Element VP of Informatics, Semyon Kruglyak, presented a deep dive into the high quality scores of AVITI data and the unique capabilities of Element technology, illustrating how these translate into meaningful advantages for customers. He shared new data showing that AVITI read quality is particularly higher than NovaSeq data in post-homopolymer regions, with potential impacts to variant calling. He also presented internal research on sequencing library inserts greater than 500 bases, enabled by our method of polony generation using rolling circle amplification. Modelled perfect data shows that paired end sequencing of longer inserts provides many of the same advantages as continuous long reads for improved mapping and variant calling. Semyon showed that by sequencing libraries up to 2 kb in length, the AVITI system can provide sufficient coverage in hard to sequence regions of the human genome to enable SNP calling.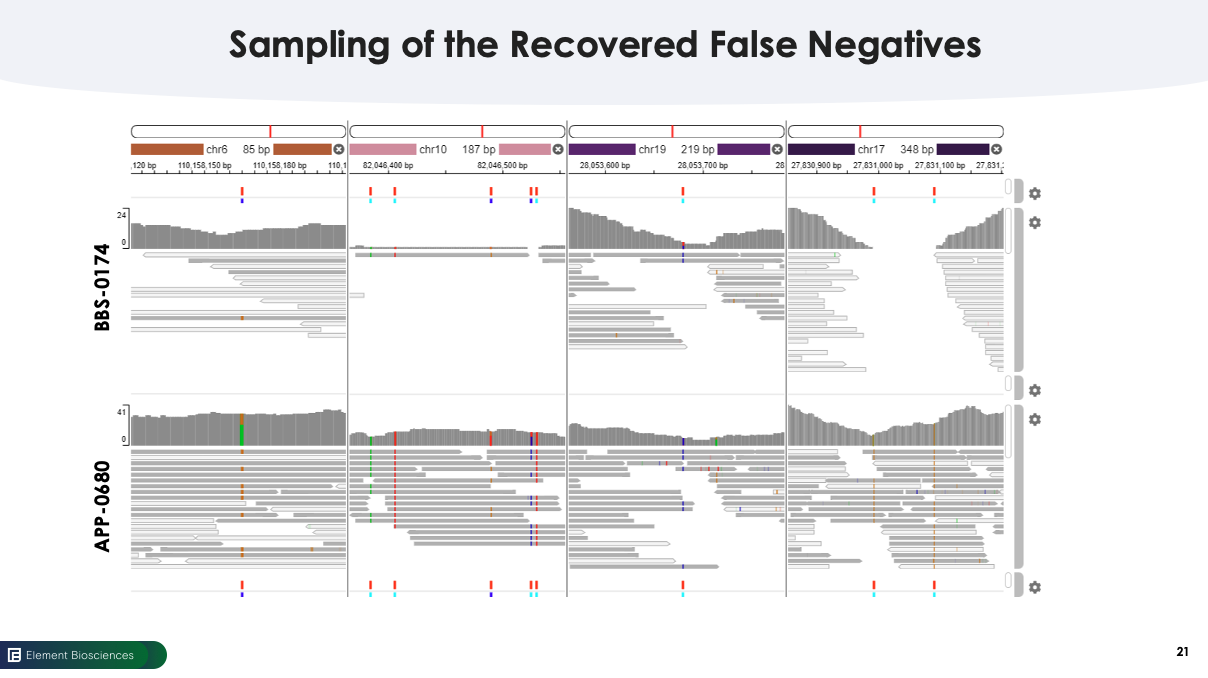 Another highlight of the conference was a presentation by Elinor Karlsson, Director of the Vertebrate Genomics Group at the Broad, professor at the UMass Medical School and the "dog whisperer" of genomics. She presented her research on the genomics of dog behavior from the main stage, noting that she is now sequencing on AVITI with good results. The heterozygous variant calling "is as good as with Illumina, and possibly better," she told GenomeWeb.
On Day 2, Element hosted a second series of presentations in our lounge. First, Francisco Garcia, SVP of Software and Informatics, presented a preview of AVITI OS 2.0 and Elembio Cloud. This new version of the AVITI OS includes a simplified user interface, automated data streaming to your desired data location, and adds onboard demultiplexing that provides early feedback on pool balancing. Elembio Cloud delivers the ability to set up and monitor runs remotely, and consolidated options for data storage and management.
Next up was a scientific open house, with Chief Scientific Officer and SVP, Applications, Shawn Levy joining Co-Founders VP of Chemistry, Matt Kellinger and Chief Technology Officer, Mike Previte taking questions from the audience on a wide range of topics, including what makes Element technology unique and how our scientific leadership plans to turn those key differentiators into concrete benefits for the genomics community in the coming months and years.
Finally, Matt Kellinger again took the main stage for a bronze workshop presentation on "Cloudbreak and Beyond." He shared improvements our new chemistry is bringing to AVITI less than a year into launch. The smart phone cameras rose excitedly when Matt started showing the difference between AVITI and NextSeq in performance, with AVITI delivering huge cost savings, better accuracy, and runtimes faster by 10 hours. In addition to the advances shared in our lounge talks, Matt highlighted Cloudbreak improvements including:
Even higher accuracy, especially in read 2
Faster run times, with 2x150 runs completing in 38 hours
On-board circularization of AVITI-native Elevate libraries, with no increase to run times
A preview of 2x300 runs delivering 400 M paired end reads per flow cell, coming in 2023 Q3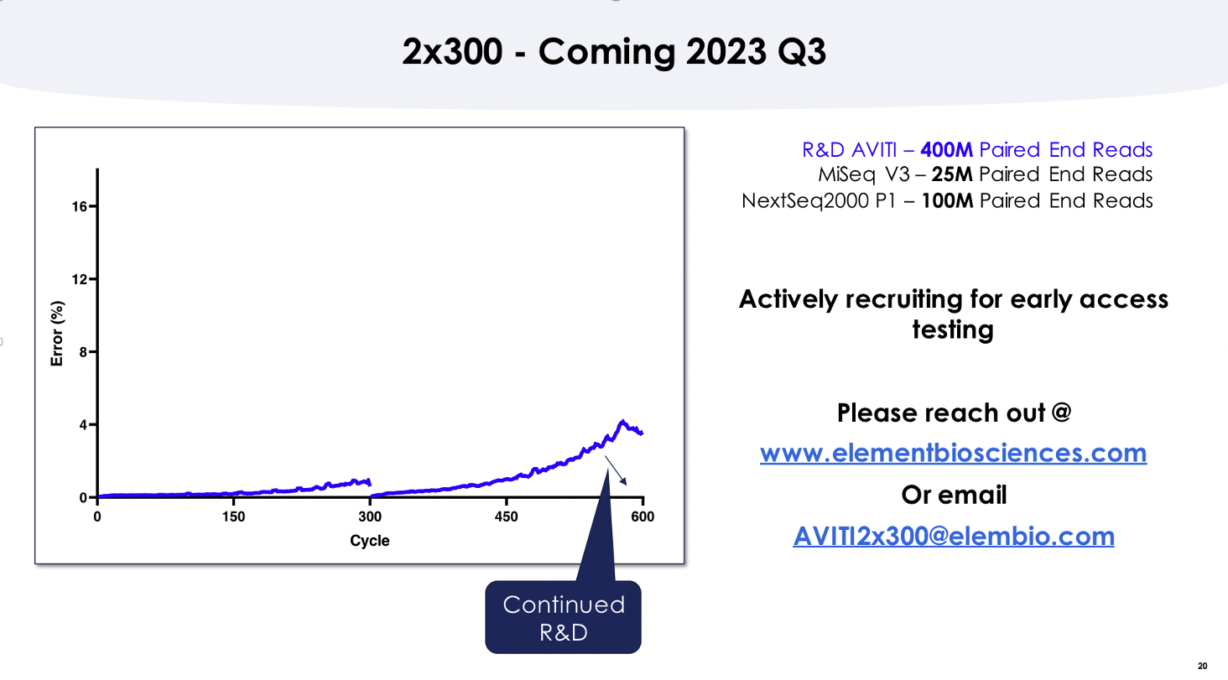 Thanks so much to everyone who stopped by our lounge to see an AVITI demo, came to our lounge talks and workshops and joined us for some late-night fun at our 'Catch the New Wave' party. If you weren't able to attend, we hope you enjoy the recordings of all our AGBT happenings and check our events page to see where to find us at future events and webinars!