Cloudbreak chemistry brings high-quality, low-cost Avidity Sequencing™ to any application without catches or complications. Designed to improve turnaround time, accuracy, and efficiency, Cloudbreak delivers rapid runs at our signature low pricing backed by the Element lifetime price guarantee.

Cloudbreak features include:
20% faster run times across read lengths
Early indexing for real-time run management
Improved data quality at the end of each read for greater accuracy
No library circularization for Elevate™ library prep
Many flow cell options and read lengths
The introduction of Cloudbreak chemistry advances core Avidity Sequencing™ by fundamentally increasing AVITI™ sequencing speed. In only 38 hours, two 2 x 150 runs generate up to 600 Gb of data and 2 billion reads. Shorter read lengths can achieve 2 billion high-quality reads in < 24 hours.
Combining the shortened run times with an index-first run format enables early index analysis of individual samples to anticipate subsequent run requirements or cancel a run. This approach spares valuable run time and batch scheduling opportunities.
With the Element Elevate Library Prep Workflow, Cloudbreak promotes convenience and flexibility by enabling any Elevate library to be directly loaded onto the AVITI System without on-bench circularization. Circularization instead occurs automatically on the flow cell without extending the run time, resulting in true overall time savings.
Options for daily and weekly turnaround
Table 1 presents Cloudbreak run times for common read lengths, which includes index cycles. AVITI OS continues to support customized read lengths and keeps the total number of cycles within the maximum capacity of the sequencing kit. Each kit supports the nominal number of cycles plus 34 cycles for indexing and UMIs.
Real-time run management for time savings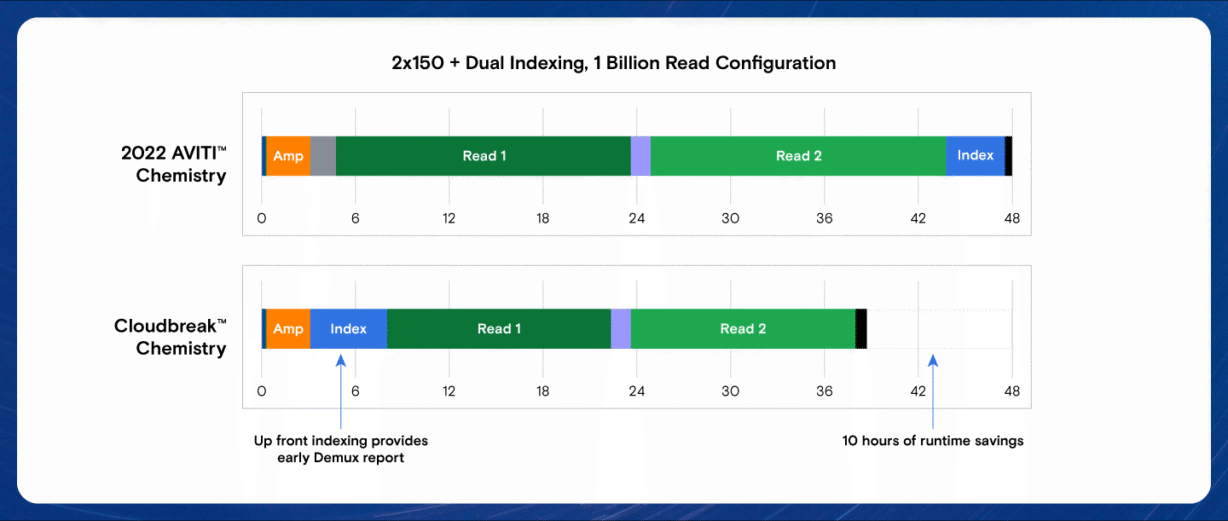 Cloudbreak performs the Index 1 and Index 2 reads before Read 1 and Read 2 so QC information is quickly available. You get early feedback on your index assignment metrics and avoid wasting valuable sequencing time in case of a problem. The 10-hour savings on a 2 x 150 run can instead be spent on this early analysis and real-time management of daily and weekly run schedules.
Increased confidence in analysis

New enzymes engineered to shorten cycle times also have the benefit of improving base quality and accuracy through the most challenging sections at the end of each read. A side-by-side comparison of Cloudbreak performance to version 1 chemistry and the SBS-based systems NovaSeq 6000 and NextSeq 2000 demonstrate a clear Cloudbreak advantage. All data were generated from the same human whole-genome sequencing (WGS) library.

An important context for measuring data quality is the error rate observed through long homopolymer regions (> 11 bp/homopolymer), which are highly mutagenic and characterized as hotspots for length change mutations. The left panel shows an unaffected progressive error rate for the AVITI System after passing through the homopolymer at position 0 versus the 5-fold average increase in error rate of the other systems. Significantly, this improved homopolymer performance extends across the majority of all long homopolymers in the human genome (right panel).
Oboard circularization for ultimate convenience

Cloudbreak enables any Elevate library to be loaded directly onto the AVITI System after quantitation without any manual, on-bench circularization. Both the long adapter kit and original index kit enable automatic circularization that occurs on the flow cell as part of the sequencing run. The long adapter kit extends the reach of applications for the Elevate Workflow and supports both PCR-free and PCR-plus library prep.