Here
Meet Element Biosciences at ABRF 2023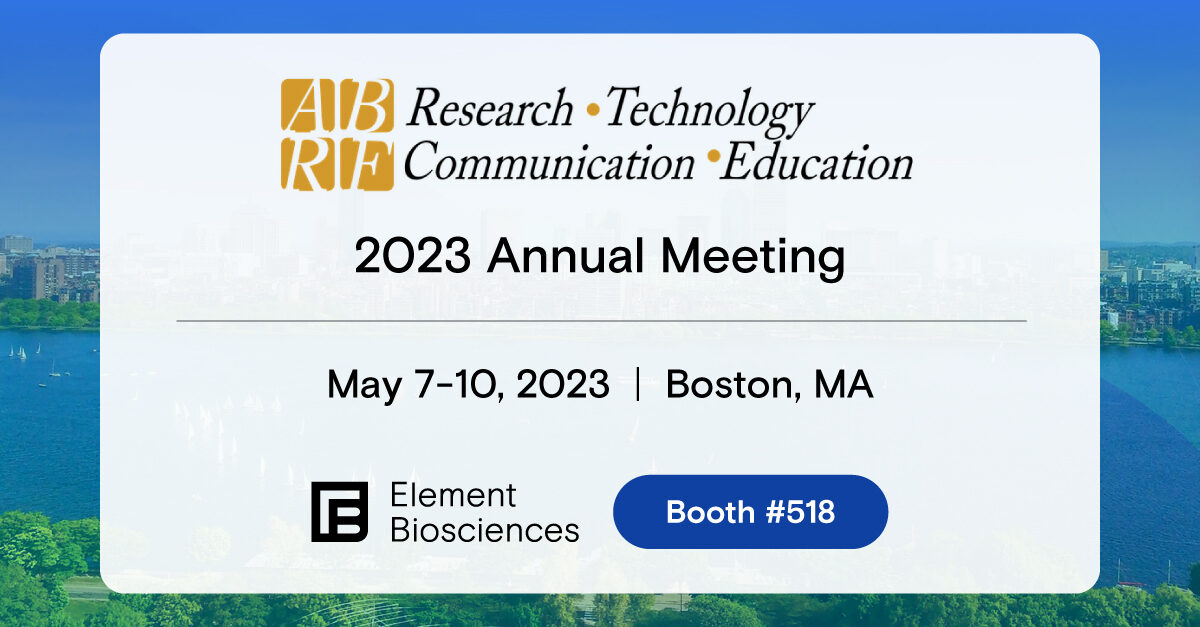 Meet Element Biosciences at ABRF
Booth #518
Stop by Booth #518 to meet our team and see a demo of the AVITI™ System, our DNA sequencing platform that offers industry-leading data quality at the lowest run costs.
• 2 Fully independent flow cells maximize flexibility for core facilities.
• 1 AVITI flow cell pairs ideally with 10X Chromium Chip output.
• Validated ecosystem workflows enable seamless integration.
Join us at the Association of Biomolecular Resource Facilities (ABRF) 2023 to learn more!
---
Schedule of Element Programs at ABRF 2023
---
Monday, May 8th
Technology Showcase and Happy Hour
Time: 6:00 - 7:00 PM
Location: The Fens Room
Talks:
"AVITI Cloudbreak: High accuracy, fast runtimes, simple workflow," Isaku Tanida, Ph.D., Assoc. Director, Product Management, Element Biosciences
"The AVITI System at the UC Davis Technologies and Expression Analysis Core Lab,"Lutz Froenicke, Ph.D., Manager, DNA Technologies and Expression Analysis Cores, UC Davis
---
Posters at ABRF 2023
---
Title: Genomic Sequencing and Analysis with AVITI in a High-Throughput, Multi-user Environment: Introducing AVITI OS 2.0 and Elembio Cloud.
Time: Wednesday, May 10th, 1:00 - 2:00 PM
Poster Number: I114

Title: Cloudbreak Chemistry from Element Biosciences: Higher accuracy, shorter run times, simplified workflow.

Time: Wednesday, May 10th, 1:00 - 2:00 PM

Poster Number: I106