Researchers at Element Biosciences have published a bioRxiv preprint, "Sequencing by Avidity enables high accuracy with low reagent consumption," describing the fundamentals of Avidity Sequencing. The key innovation of Avidity Sequencing is that, unlike sequencing by synthesis (SBS), it separates the detection of the incoming nucleotide from advancing the DNA template. Separating the steps allows each to be independently optimized and drives both the cost and accuracy improvements seen with the AVITI™ DNA sequencing system.

So how does it work? Read on for highlights from the article.
PCR-Free Polony Generation
Avidity Sequencing circularizes DNA templates and then captures them on the flow cell surface. Clonal copies of the template are made with rolling circle amplification (RCA) to generate polonies where many copies of the template exist within a single concatemerictemplate. Copying only from the original template has the additional benefit of removing an important source of error in DNA sequencing – PCR.
Two Jobs, Two Steps
Any polymerase-based method for DNA sequencing must accomplish two jobs:
Detect a nucleotide incorporation event
Advance the DNA template to the next position
With SBS sequencing, these two steps are locked together. The register advances when a dye-labeled, blocked nucleotide is added to the growing complementary strand. Covalent incorporation creates a persistent signal for the imaging step, but micromolar reagent concentrations are needed to drive the reaction to completion in a reasonable time frame.
With Avidity Sequencing, Element scientists have invented a way to create a stable complex for imaging using only nanomolar reagent concentrations by separating these two steps.
Avidites: The Key to Low Reagent Costs and High Data Accuracy
Avidity refers to the additive strength of multiple non-covalent binding interactions, which can be achieved when multivalent ligands bind to multiple sites within a substrate. Avidites reimagine how nucleotides are delivered to the polymerase complex to leverage this property. They are dye-labeled polymers with multiple identical nucleotides attached.
In the presence of DNA polymerase, avidites form highly stable complexes with multiple copies of the template within each polony. The association rate of avidites with the DNA-polymerase complex is similar to that of dye-labeled monovalent nucleotides, but unlike monovalent nucleotides, even at nanomolar concentrations, no dissociation is seen over the >1-minute time scale needed for imaging. After imaging, avidites can be removed and the register advanced using an engineered polymerase and a blocked, unlabeled nucleotide. A complete cycle of avidity sequencing is shown in Figure 1.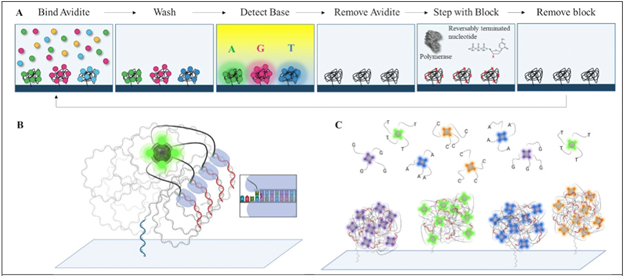 In addition to enabling lower reagent concentrations (and therefore lower running costs), Avidity Sequencing is more accurate than SBS, with particular benefits around homopolymer regions (Fig. 2). The preprint authors speculate that the higher accuracy is the result of several factors:
The use of an engineered high-fidelity polymerase
Synergistic binding of multiple nucleotides on a single avidite to ensure only the correct cognate avidite binds to a polony
A binding disadvantage for out-of-phase DNA copies inside of the polony that lack other out-of-phase neighbors to serve as avidity substrates

In the preprint, the authors describe the kinetics of avidity sequencing in detail, share details of how the method is implemented on the AVITI DNA sequencing system, and offer proof of concept data from human genome sequencing and single-cell RNA sequencing.
A New Technology With Unexplored Potential
Avidity Sequencing is a new technology, and the modular design of the avidites creates multiple independent opportunities for improvement. The polymer core, the number and choice of dyes, and the length and structure of nucleotide linkers can all be optimized in parallel to increase signal, decrease cycle time, lower reagent concentration, or tune other parameters of the sequencing reaction to better suit different applications. For example, the preprint shares proof of concept data for sequencing 300 base pair reads using a novel polymerase and optimized reagent formulation (Fig. 3). In addition to longer reads, further quality improvements, including shorter cycle times and higher densities, are already under development here at Element.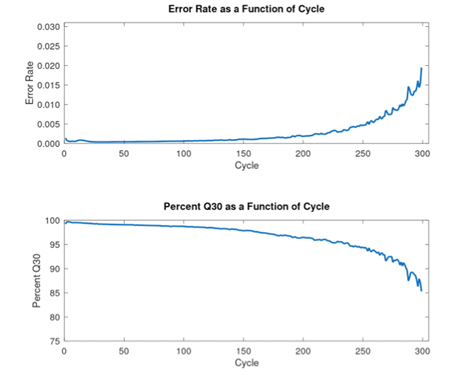 To learn more details about avidity sequencing, read the complete preprint on bioRxiv here.